:

:

:

:

Early Childhood Connections
Early Childhood Connections
Are you looking to get connected to information, resources, or services related to your family or children under age 8?  Some examples of resources you might be seeking:  social connection opportunities, prenatal support, developmental information, navigating disabilities, behavior concerns, childcare, financial support, or anything else related to your family's needs while raising children.
We are here to support you on your journey. Please reach out to: jtroberts@sawtoothmountainclinic.org.
Follow us on Facebook! 
Events
Monthly socials – Join friends, both old and new, for some fun at the Cook County Community Center!    Gatherings are the first Saturday of the month (Dec. 2022 – May 2023) from 10:00 – 11:30 a.m.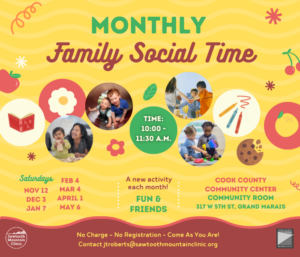 "Creating an Anti-Racist Early Childhood Environment"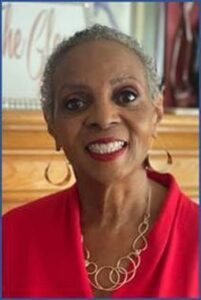 Webinar hosted by the Northland Foundation:  Thursday, December 8th, 2022 from 6:30pm – 8:30pm  Please join Dr. Rosemarie Allen for a session focused on identifying factors that promote an equitable, anti-bias/antiracist educational environment. Participants will identify critical factors related to equitable practices, including the importance of discussing race, recognizing messages and actions that ensure a sense of belonging and inclusion, and developing a positive racial identity in all children. Participants will also identify the seven principles of culturally responsive practices.  Please register in advance at https://bit.ly/3TNgWIZ
After registering, you will receive a confirmation email with details and the Zoom link.  This session is designed primarily for Child Care Providers, Out of School Time Programs, and others serving young children ages 0-8.
Positive Parenting book clubs

Parenting & Caregiver Book Club: Positive Parenting – Full Book Review
December 13 | 7:30 – 830pm  | FREE | Zoom
Facilitator: Jodi Tervo Roberts, Sawtooth Mountain Clinic
Partners: Sawtooth Mountain Clinic's Early Childhood Hub, Wise Women, and Cook County Higher Education
Cost: FREE – Book is provided* (Options: Paperback, Digital, Audible)
* If you register after November 7, you are still welcome to join the sessions, you will just need to get a copy of the book on your own.  Register here.

Positive Discipline training coming in January.
Partnering Agencies who support this connection: Cook County Higher Education, Women's Initiave Service & Education, Early Childhood Family Education, Sawtooth Mountain Clinic's Oral Health Task Force, LOTS/North Shore Collaborative, The Northland Foundation.
Local Resources
Sawtooth Mountain Clinic Prenatal to Kindergarten services:
Birth and prenatal education – One-on-one or group education for yourself and your family/team to help care for yourself in pregnancy and in preparation for birth and parenting.
Lactation support – Connect with a Certified Lactation Counselor to learn about infant feeding and navigate successes and challenges.
WIC – Combines financial assistance for groceries with nutrition and wellness counseling to support family health prenatal to age 5.
Family Home Visiting – Short- or long-term connection with a nurse to support your caregiving journey through timely sharing of information, connection to community and health resources, careful listening, health and developmental screenings, and support for your goals.
Cook County Services Directory – A guide that Cook County Public Health and Human Services updates regularly regarding local services for all ages.
Help Me Grow – Information about child development in general, along with a referral tool to get connected to local development providers.
Early Childhood Family Education –  Take advantage of early childhood screenings and educational classes for main caregivers and their children through our local ECFE program.
Help Me Connect – This list does not include resources that are specific to Cook County, but is a great place to get general information. For questions or more in-depth needs, please contact Jodi Roberts at Sawtooth Mountain Clinic (jtroberts@sawtoothmountainclinic.org).
Food Banks:
Grand Marais: Congregational Church, 3rd Ave. West and 2nd St. (across from Art Colony, rock bottom church) Grand Marais, MN 55604, lower level, private access.

Volunteers are staffed from 3-5 p.m. EVERY Monday (even on holidays) and the 1st Wednesday of the month.
If you can't make the times that are staffed, please call Gwen Lenz at 218-387-9860

Grand Portage Human Services:

6 Casino Dr., Grand Portage, MN 55605
218-475-2453

Ruby's Pantry, Grand Marais, MN:

Cook County Community Center: 317 West 5th, Grand Marais, MN 55604
2nd Tuesday of the month.
Registration begins at 4:30 p.m.
Food shares are available from 4:30 – 6:00 p.m.
Hosted by the Spirit of the Wilderness Church
Local Childcare Providers
Birch Grove Saplings: 218-663-0170
Cooperation Station: 218-387-1324
Grand Portage Headstart: 218-475-2234
ISD 166 Preschool: 218-387-2271
Maria Carlson: 218-370-2159
Maria Conlan: 218-370-9814
YMCA: 218-387-3386
Trustworthy Websites for Early Childhood and Development Information
American Academy of Pediatrics website for parents
Early Literacy Resources for Families:
Development in the earliest years:
Building a baby's brain:

Early Risers Podcast from Little Moments Count and Minnesota Public Radio – expanding a global conversation about race and racism.

Speech Development:
Brain Architecture
FAQ's
How do I know if my child is on track developmentally?  If you are concerned about the development of your child or are curious, schedule an appointment with your child's physician.  You can make a parent referral to Help Me Grow and request an assessment with our local early childhood team.
I don't know where to start and would like someone to guide me toward what might be useful to me/my family. Where can I go?  There is no wrong door!

Call the clinic general line and speak with someone from patient access about what might interest you, or
Reach out directly to

Hannah Miller, Parent Child Health Nurse (hannah@sawtoothmountainclinic.org, 218-387-2330 ext. 121, or
Jodi Roberts, Early Childhood Navigator (218-387-2330 ext. 818 / jtroberts@sawtoothmountainclinic.org). This coaching is always free.
I always find out about events after I've missed them. How do I find out what's coming up in my community?  There are a number of online places to find events. Boreal Community Media is a great place to start. Many other organizations have newsletters/websites or social media pages, such as Cook County Higher Education, Sawtooth Mountain Clinic, Cook County WIC, Cook County Public Health, WTIP, Growing Families, ECFE/Early Childhood Family Education at ISD 166, and the YMCA. Keeping up with these resources can be daunting; consider attending a regular event for parents, whether a parenting class through ECFE or a parent conversation group/playdate through Growing Families to crowdsource what's coming up!
I don't qualify financially for WIC, so where can I learn more about nutrition for myself in pregnancy, and navigating the introduction of solid foods and other adventures in early childhood feeding?  These and any topics you can think of that you might want to learn about for pregnancy and early childhood are perfectly suited for the free nurse visits that are called "Family Home Visiting." It could be as simple as a phone call or email with Hannah Miller, Parent Child Health Nurse; you don't have to have visits in the home to take advantage of this resource.
Where can I find information about financial assistance with prenatal care or medical care for my children?  Sawtooth Mountain Clinic offers financial assistance for patients through both payment plans and a Sliding Fee Scale. We also have a MNsure Navigator on staff who can assist with the application and enrollment process. Call the clinic at 218-387-2330 to learn more about our programs. You can also check out our Financial Assistance webpage here.