Parenting & Caregiver Book Club: Positive Parenting – Book Discussion
December 13, 2022 @ 7:30 pm

-

8:30 pm

|

Recurring Event

(See all)

One event on December 13, 2022 at 7:30 pm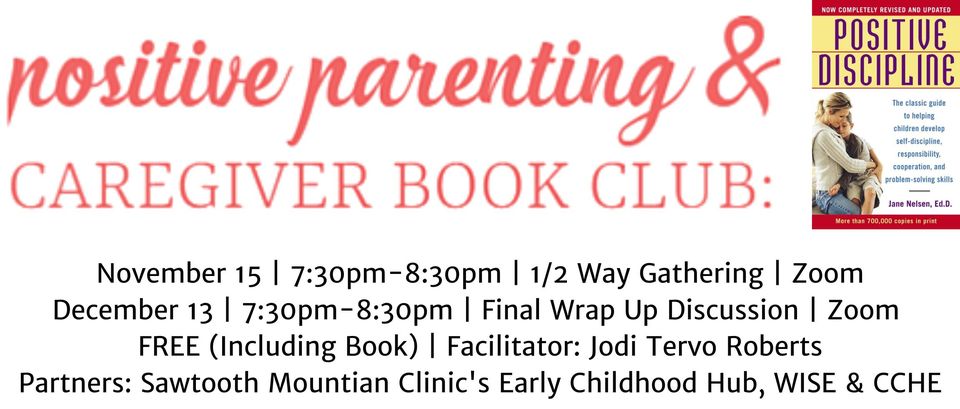 :

:

Parenting & Caregiver Book Club: Positive Parenting – Book Discussion
Parenting & Caregiver Book Club: Positive Parenting – Book Discussion
Parenting & Caregiver Book Club: Positive Parenting – Book Discussion
December 13 | 7:30 – 830pm | FREE | Zoom
Facilitator: Jodi Tervo Roberts, Sawtooth Mountain Clinic
Partners: Sawtooth Mountain Clinic's Early Childhood Hub, Wise Women, and Cook County Higher Education
Cost: FREE – Book is provided (Options: Paperback, Digital, Audible)
Register at:
https://cche.app.neoncrm.com/event.jsp?event=127&
www.mycche.org | 218-387-3411 | office@mycche.org
* If you register after November 7, you are still welcome to join in the sessions, you will just need to get a copy of the book on your own.
Are you a parent or a caregiver who is fostering the development of littles in your life? Do you love learning through books? Do you enjoy peer-to-peer discussion and support about caring for children – the joys and challenges? We invite you to join our discussion this fall as we learn, share, and reflect together on better ways to fulfill our roles.
In November and December, we will be reading Positive Discipline, by Jane Nelsen, EdD.
Amazon.com describes this book as the following:
"The key to positive discipline is not punishment, she tells us, but mutual respect. Nelsen coaches parents and teachers to be both firm and kind, so that any child–from a three-year-old toddler to a rebellious teenager–can learn creative cooperation and self-discipline with no loss of dignity.
Inside you'll discover how to
* bridge communication gaps
* defuse power struggles
* avoid the dangers of praise
* enforce your message of love
* build on strengths, not weaknesses
* hold children accountable with their self-respect intact
*teach children not what to think but how to think
* win cooperation at home and at school
meet the special challenge of teen misbehavior"
Book Group Dates (attend one or both):
November 15th – halfway point
December 13th – full book review
All sessions are optional. Please feel free to welcome your entire family into these discussions, or find a quiet corner to join us for these valuable conversations. Come as you are, this is a welcome space for all parents & caregivers.
In January, the Early Childhood Hub's Nancie Deming will lead a training on this book by a certified teacher of "Positive Discipline." You do not need to attend the book club to join the training, but the book may spark an interest.
Facilitator: Jodi is an Early Childhood Community Resource Navigator for families in Cook County, under the Early Childhood Community Hub Grant housed within Sawtooth Mountain Clinic. If you would like to get in touch with Jodi regarding this book club or to find resources for your family, please feel free to email her at jtroberts@sawtoothmountainclinic.org.