:

:

Sawtooth Mountain Clinic Pharmacy
Sawtooth Mountain Clinic Pharmacy
Thank you for choosing our pharmacy! Our goal is to offer the most affordable medication options possible while providing outstanding customer service.  Here are some helpful tips for how to use our pharmacy.
Contact Information
Telephone: (218) 877-8277
Address: 513 5th Ave W
Grand Marais, MN 55604
Hours  (Please note:  The pharmacy is closed for lunch from 12:30-1:00 pm.)
Monday, Tuesday, Thursday, Friday:  9:00am – 12:30pm & 1:00pm – 5:00pm
Wednesday:  9:00am – 12:30pm & 1:00pm – 5:30pm
Saturday & Sunday:  closed
HOW CAN I FILL A NEW PRESCRIPTION?
After your appointment, register at the pharmacy window in the clinic lobby.  Let them know if you would like to wait to pick up your medicine that same day or come back later.
If applicable, show your insurance card upon checking in so that the pharmacy can easily bill your insurance.
Let the pharmacy know if:
You have any allergies to medications or food.
You are pregnant.
**If you need to get lab work, check in with the pharmacy first, and your prescription will likely be done by the time you are done with your lab work.
HOW CAN I GET REFILLS ON MY MEDICINES?
The fastest way to get a refill is to call the pharmacy directly, not your doctor.
Please allow 48-72 hours for the pharmacy to get your refills ready.
Please call the automated system at 218-877-8277 when you have 3 pills or 3 days left so that you will not miss any days of medication.
If you need to transfer a prescription from another pharmacy, press 1.   Click here for the Pharmacy Transfer Form, print, fill it out, and then bring it to the pharmacy.  If you prefer, you can fax it to the pharmacy at 218-877-8279.
To check on the status of your refill, press 3.
For pharmacy hours and location, press 4.
If you are calling from a physician's office, press 5.
To speak with pharmacy staff during business hours, press 0.
Please let us know if you would like to sign up for a call when ready or text when ready.
I'M VISITING THE GRAND MARAIS AREA AND FORGOT / RAN OUT OF MY MEDICATIONS.  WHAT SHOULD I DO?
First, call your health care provider's office and let them know that you need a "vacation supply" of medications to last until you get home.
Then, your health care provider can send us your prescription through their normal electronic prescribing system.  This is the fastest way.  Ask them to send it to the Sawtooth Mountain Clinic Pharmacy in Grand Marais, MN.
UNDERSTANDING YOUR PILL BOTTLE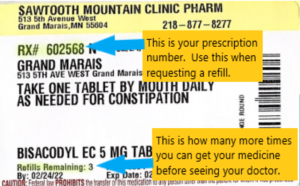 The number of refills you have of your medicine can be found on the bottom left of the prescription label on the pill bottle.
**If you have zero refills or your prescription is expired, please contact the pharmacy and allow 3-4 days for the pharmacy to get a new prescription from your doctor.
WAIT TIMES
In general, one prescription will take 15-20 minutes to fill. The more prescriptions you have the longer it takes to get them ready.  Our number one priority to make sure we are filling your prescriptions accurately, appropriately, and safely.
IMPORTANT REMINDER
Please remember to pick up your prescriptions within 7 days after requesting them.  If you do not pick up your prescription, our pharmacy will return it to the shelves and reimburse your insurance if applicable.