:

:

CEO of Sawtooth Mountain Clinic Receives Award
CEO of Sawtooth Mountain Clinic Receives Award
Rita Plourde, CEO of Sawtooth Mountain Clinic, receives 'Hero Award' at the Minnesota Rural Health conference from the Minnesota Department of Health
Sawtooth Mountain Clinic has announced that its Chief Executive Officer, Rita Plourde, has received the "Hero Award' at the Minnesota Rural Health annual conference from the Minnesota Department of Health.
The Minnesota Rural Health Conference presents the Rural Health Awards each year to honor the work its healthcare colleagues have done. The Minnesota Department of Health's Office of Rural Health and Primary Care, the Minnesota Rural Health Association and the National Rural Health Resource Center host the conference held this year at the DECC in Duluth. This year's theme was "Innovation & Transformation."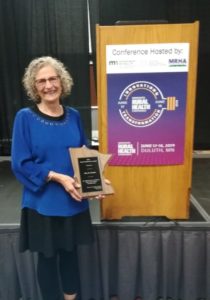 Rural Health Hero Award
Rita M. Plourde, MA, Chief Executive Director of Sawtooth Mountain Clinic (SMC), received the 2019 Minnesota Rural Health Hero Award. SMC is the sole provider of primary health care for more than 100 miles. Carol DeSain, President of the SMC Board of Directors, said that the success of the clinic is due in no small measure to Ms. Plourde's 38 years of skilled leadership, collaborative commitment, and dedicated tenure.
"Rita harvests a vision that is uniquely appropriate for this medical practice and this community. Then she implements that vision by finding the necessary funds and resources…and collaborates with all affected," said Ms. DeSain.
Under Ms. Plourde's administration, Sawtooth Mountain Clinic has consistently maintained its status as a federal Health Center that can meet the needs of Cook County and the Grand Portage Band of Lake Superior Chippewa regardless of their ability to pay. Despite its geographic remoteness, Ms. Plourde's successful recruitment and retention of physicians and other health care professionals has enabled SMC to provide primary care, public health, Indian health, and behavioral health seamlessly within one facility. The accessible health care infrastructure Ms. Plourde has helped build over the years has contributed to a thriving rural community.
As Carol DeSain says, "There is no magic formula for this….it's Rita! A rural health hero indeed." Plourde joined Sawtooth Mountain Clinic in 1981 and she is responsible for recruiting and retaining physicians and support staff to provide comprehensive primary care services, securing funding for health care operations and establishing and maintaining public health services. She is currently Board Chairman of the Breakwater Health Network and past Board President of the Minnesota Association of Community Health Centers. Prior to joining Sawtooth Mountain Clinic, she has also served as a consultant and held several positions with the Minnesota Department of Natural Resources. She holds a Masters Degree from the University of Minnesota.
Plourde announced her retirement from Sawtooth Mountain Clinic in February 2019 and has pledged to stay in her role until her successor is hired and a smooth transition to new leadership has been made.
Over the years, Sawtooth Mountain Clinic has grown to include six full-time physicians and one nurse practitioner. Along with a highly professional staff of nurses, behavioral
health practitioners, medical record and office personnel, and administrative staff, these seven providers care for patients with health care needs ranging from prenatal to palliative. Supplemented by a robust Outreach and Community Health Program, the Sawtooth Mountain Clinic also offers services such as blood pressure screenings, foot care, and flu shot clinics, childbirth education, and the WIC (Women, Infants and
Children) program.
After 40 years of service to the people of Cook County, Sawtooth Mountain Clinic remains dedicated to the continuation of personal, compassionate, high-quality health
care for all, regardless of their ability to pay. Sawtooth Mountain Clinic is a 501(c)(3) nonprofit organization. The Clinic first opened its doors, as a federally qualified health
clinic in June 1979. Sawtooth Mountain Clinic celebrated its 40th anniversary at a community event at the Clinic in Grand Marais on Monday, June 24.