:

:

Sawtooth Mountain Clinic Welcomes New Provider
Sawtooth Mountain Clinic Welcomes New Provider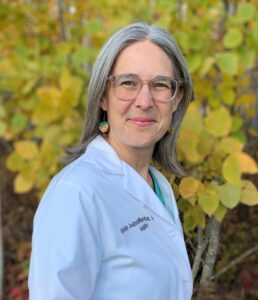 Sawtooth Mountain Clinic (SMC) is pleased to announce that Kristin DeArruda Wharton, CNP will be joining our team of providers in 2024. Kristin DeArruda Wharton is a nurse practitioner trained in primary care of the family, as well as adult and geriatric acute care. SMC CEO Kate Surbaugh notes "Kristin's career has demonstrated commitment to providing quality care for rural communities, and closely aligns with the mission and values of SMC."
A longtime resident of Cook County and fourth-generation North Shore resident, Kristin's nursing career began in Chinle, Arizona where she cared for Dine' families at the Indian Health Service. Kristin then returned to the North Shore and served as a hospital and ER nurse at North Shore Health and a licensed school nurse at ISD 166 before leading programs in outreach and community health at Sawtooth Mountain Clinic for over 9 years.
After being awarded a Bush Foundation Fellowship that supported her training as a nurse practitioner, Kristin earned her master's degree in nursing as a Family Nurse Practitioner in 2019, with a focus on rural health including clinical rotations at Fond du Lac clinics in Duluth and Cloquet. She was certified as a family nurse practitioner by the American Academy of Nurse Practitioners in that same year.
Kristin most recently served as a hospitalist at Essentia Health Hospital Medicine program, working in Duluth and regional critical access hospitals. During this time, she completed a 12-month hospital medicine training at Saint Mary's Medical Center-Duluth and the College of Saint Scholastica, earning certification as an adult geriatric acute care nurse practitioner from the American Nurses Credentialing Center.
In addition to her hospital and clinic work, Kristin has coauthored professional articles on the challenges of rural access to healthcare. She has also served at Cook County Public Health, leading the COVID contact-tracing program in 2020. She lives with her husband and children in East Cook County, where they operate a diversified organic vegetable farm.
We look forward to welcoming Kristin to Sawtooth Mountain Clinic. Kristin will start seeing patients in early 2024. If you have questions, you may call Sawtooth Mountain Clinic's Patient Access team at (218) 387-2330.
Contact:
Erin Watson, COO
(218) 877-8252