:

:

Minnesota Association of Community Health Centers Awards Senator Grant Hauschild, District 03, with Legislator of The Year Award
Minnesota Association of Community Health Centers Awards Senator Grant Hauschild, District 03, with Legislator of The Year Award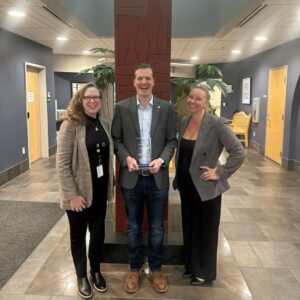 The Minnesota Association of Community Health Centers (MNACHC), an organization that supports the state's 17 community health centers (CHCs) and its patients in improving and maintaining the health and wellness of local communities, presented Senator Grant Hauschild with it's 2023 Legislative Champion of the Year award on Friday October 27th at the Sawtooth Mountain Clinic in Grand Marais, MN. Senator Hauschild, representing State Senate District 03, is a tireless advocate for health care access and services to all. The award was presented by Kate Surbaugh, CEO of Sawtooth Mountain Clinic and Rochelle Westlund, Director of Public Policy at MNACHC.
"We are thrilled to acknowledge Senator Hauschild as our Legislator of the Year for his work as a bill author to pass state appropriated support for our MNACHC workforce apprenticeship program that currently provides apprenticeship opportunities for Medical Assistants and Dental Assistants at our 17 CHCs around the state," said Jonathan Watson, CEO, MNACHC. Senator Hauschild thanked MNACHC for the award in a post on social media, also stating, "Rural Health Care is critical to the livelihood of residents across 'Greatest' Minnesota & they deserve the same quality healthcare as in bigger Cities. Your zip code shouldn't dictate your care!"
Sawtooth Mountain Clinic and other MN CHCs are some of the only organizations in Senate District 03 providing critical primary health care services to anyone, regardless of their ability to pay or insurance status and in spite of extreme workforce shortages. The MNACHC apprenticeship program allows people to work while studying to become a Medical Assistant or Dental Assistant. These positions are crucial to maintaining a fully functional clinic capable of providing comprehensive care. "The MNACHC apprenticeship program has been a vital lifeline for our rural community to ensure we have qualified, local staff that can serve our patients," said Kate Surbaugh, CEO of Sawtooth Mountain Clinic.
For more than 50 years, Minnesota's Community Health Centers have reduced health care disparities in rural communities and we are extremely grateful for Senator Hauschild's leadership in the 2023 legislative session that allows us to continue serving our communities for years to come.
About Minnesota Association of Community Health Centers
The Minnesota Association of Community Health Centers (MNACHC) is a non-profit membership organization servicing Minnesota's 17 Federally Qualified Health Centers (FQHCs). MNACHC works on behalf of its members to promote the cost-effective delivery of affordable, quality primary health care services, with a special emphasis on meeting the needs of low income and medically underserved populations.
About Sawtooth Mountain Clinic
Sawtooth Mountain Clinic has been a community health center for over 40 years. Our mission is to provide access to high-quality, patient-centered, primary and preventative healthcare for all persons throughout SMC's service area of Cook County Minnesota and the Anishinaabe Nation of the Grand Portage Band of Lake Superior Chippewa, on whose ancestral tribal lands we stand.
Contact:
Sara Bolnick
Minnesota Association of Community Health Centers
sara.bolnick@mnachc.org
612.296.0367